Step-by-step instructions for making your own jello shot football stadium.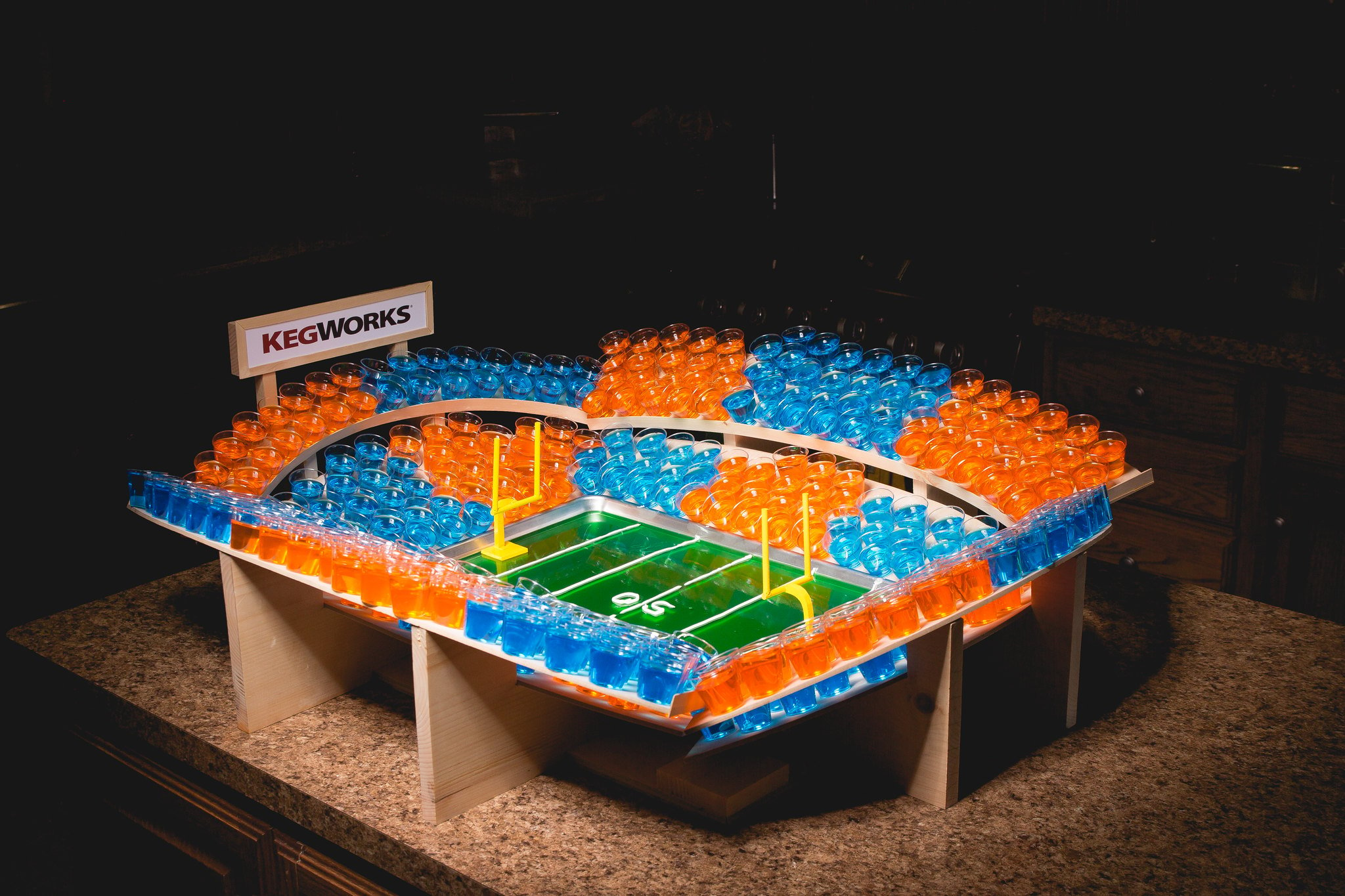 I think we can all agree, stuff tastes better when it looks like other stuff. Case in point: snack stadiums.
A few years ago, America fell hard (as only we could) for the kitschy, Pinterest-friendly trend of stacking, spreading, and otherwise cajoling football-friendly fare (think subs, chips, wings, and all manners of dip) into a structure resembling a football stadium.
Well, we here at KegWorks decided the snack stadium trend was in need of a little innovation. And since what you drink during the Big Game is at least as important as what you eat, it made sense (at least in our alcohol-addled minds) that the next era of stadium-shaped snackery should come with a buzz. Enter the jello shot football stadium!
---
How To Make A Jello Shot Football Stadium
Our wooden, reusable jello shot stadium was 43"x40" and held 386 jello shots. Download the guide below for the exact dimension of our stadium plans.
Ingredients
Alcohol of choice
Jello shot mixes (your favorite team's colors and a green one for the field!)
White frosting (for field lines)
Food coloring (optional)
Materials
¼" Plywood
¾" Wooden boards
Pitcher
Sheet pans
Resealable plastic sandwich bag
Scissors
Ruler
Tools
Wood glue
Nails
Hammer
Saw (hand saw, jig saw, band saw)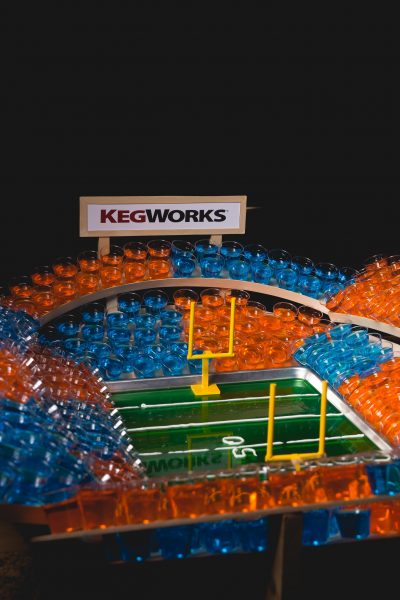 Step 1: Prepare Jello Shots
Make your jello according to package directions and transfer the mixture to a large, spouted pitcher so you can easily pour the liquid into your shot glasses. Place the individual shot glasses on serving trays before you fill them. That way, you can easily transport them to the fridge. Trays have the added bonus of being stackable, which will help mitigate any fridge-space issues. For the green field, add your green gelatin directly to a walled baking sheet. Chill all jello overnight.
*For the blue and orange shots pictured, we prepared about 30 ounces of gelatin, which ended up making about 60 more shots than we ended up using on the structure. For the lime green turf, we prepared 12 ounces of gelatin.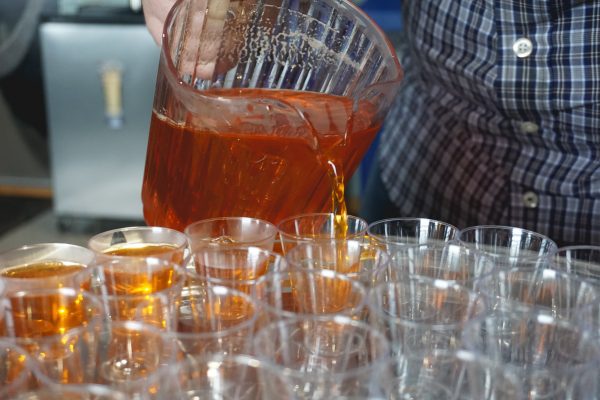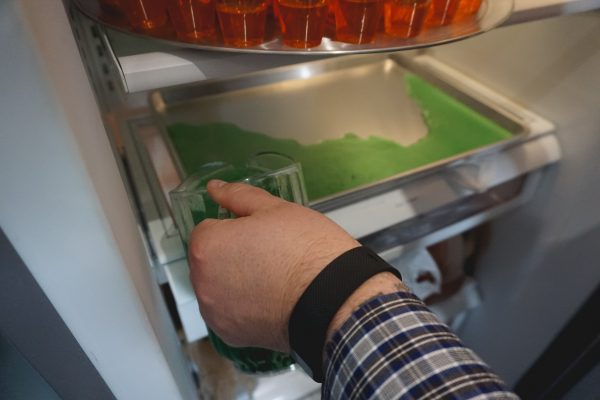 Step 2: Build Your Stadium
Depending on your size stadium cut your wood to size. Our stadium plans required wood to be shaped for home and away seat sections, both end zones, as well as the base. Using glue we assembled the field from the base up. For additional support, nails were used to connect the base to the seating.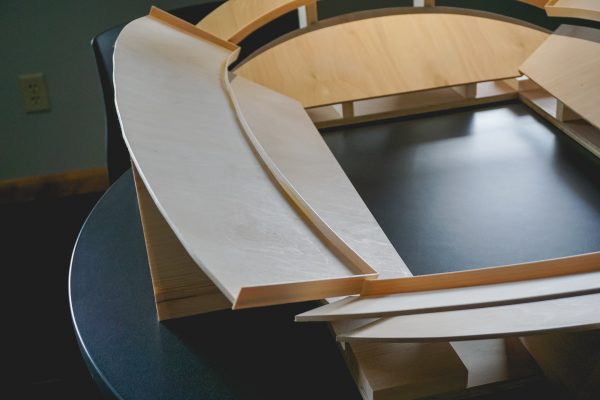 Step 3: Assemble & Enjoy (responsibly!)
Once your stadium is built and your jello is chilled, it's time to assemble! Take all the jello shots you made and place them in the seating areas. For your green field, with a ruler map out your yard lines on the sheet pan. To a resealable plastic sandwich bag, using one of the corners as your 'point', open your plastic bag and add your frosting to it with a spoon. Seal the bag at the top to close it. Use scissors to snip a corner of the bag and using gentle pressure start piping your field lines on the green jello field. Once complete, place in the center of your stadium. Finish with adding your goal posts at either end.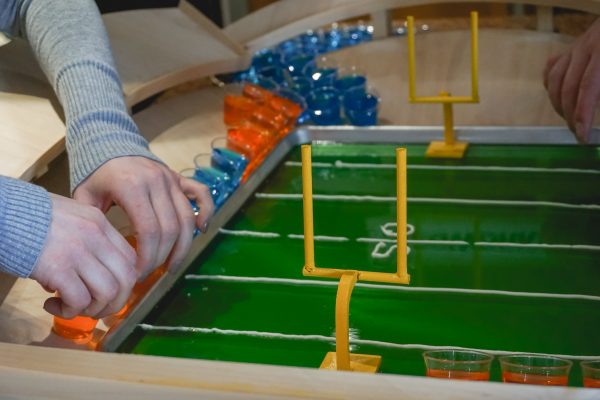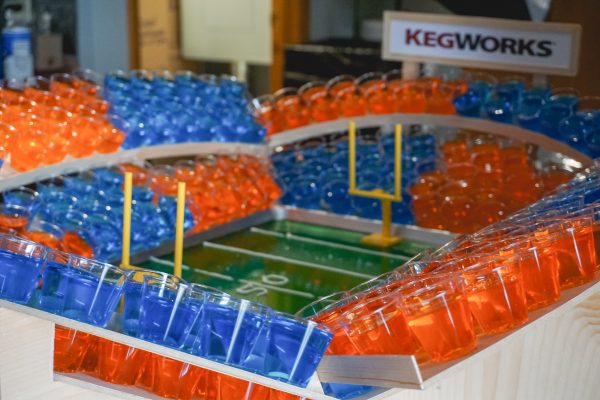 ---
NFL Jello Shot Colors Guide
No matter who you root for, you can customize your jello shot colors to match your team spirit. Check out our jello shots guide for great recipe ideas or for your exact team colors, use food coloring to create the perfect shade!
NFL Jello Shot Color Combinations
Ready For Kick Off? Shop Game Day Essentials.