We've put together an easy-to-follow method to properly clean your kegerator's draft faucet.
The final stop for draft beer on its journey from keg to tap before it hits your glass is the draft faucet. It's the gatekeeper that holds and releases the golden treasure from your draft lines and sends it cascading into your glass. But, not all beer escapes from the faucet. Sometimes, especially if you're not using a forward sealing Perlick faucet, beer will remain in the faucet and turn into a sticky mess, or worse, allow for the growth of mold or bacteria. It's very important to frequently clean your beer tap faucet, and we're going to show you how easy it is.
---
How often should you clean your draft faucets?
Since you remove your draft faucets any time you clean your draft lines (which is usually every two weeks or when you change kegs), it only makes sense to clean those faucets while they're not in use. You can also clean your keg coupler while performing your cleaning duties to save time and keep all your parts on the same schedule.
What you'll need to clean your faucets
Bowl (for cleaning faucet)
---
How to clean draft faucets
Step 1: Disconnect and disassemble your faucet
Disconnect the keg coupler from your keg, and then remove your draft faucet from the shank using your spanner wrench. It's important to remove the coupler first, so you don't get a beer shower when you remove the faucet. Once it's removed completely disassemble the faucet, including washers.
Step 2: Cleaning your faucet
Fill the bowl with hot water and a tablespoon of cleaning solution. Place your faucet parts in the bowl and let soak for about 30 minutes to an hour, depending on how often you clean your lines. Once your parts have soaked, clean out the faucet body using the brush to remove any debris or build-up
Step 3: Rinse and reassemble
Thoroughly rinse the faucet parts to remove all cleaning solution or debris, and then carefully reassemble your faucet. Make sure to replace all the faucet washers as well.
Step 4: Put your system back together
Reconnect your faucet to the shank with the spanner wrench, and then reconnect the coupler to the keg.
---
Freshly cleaned faucets will provide you with a great tasting pint of your favorite draft beer along with extending the life of your faucets.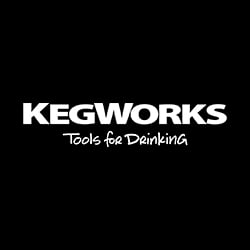 KegWorks has been selling cool tools for drinking and serving knowledge on tap since 1998. We are all about enjoying good drinks with good friends.