Last night, right before I headed out to the Employee Appreciation Party for Staples Bar my favorite beer geek, Deron, told me to try the Brooklyn Winter Ale. I had sent him a picture of the extensive beer list and it was one of the first brews he suggested to me. Honestly, I'm so glad he did.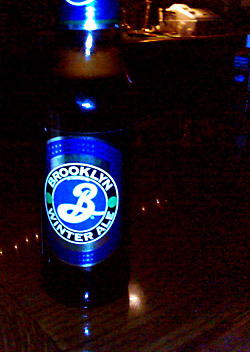 Brooklyn Winter Ale is a Scottish Ale, which is characterized by a heavier mouthfeel, rich malty flavors and low hop character. In my opinion, Brooklyn's version is a good example of what one would typically find in a Scottish Ale, and at 6% ABV, you can have a few without hitting the floor.
As Deron recommended, I waited about 20 minutes after pulling the brew out of the cooler before pouring and having my first sip. It poured a deep red brown with very little head which dissipated almost instantaneously. An aroma of toasty caramel malt is present and luckily, the flavor followed suit. It's quite heavy feeling on the tongue, but it has the perfect carbonation; the bubbles don't overpower the mouthfeel but instead, keep it clean tasting, instead of remaining too thick.
I enjoyed my Brooklyn Winter Ale so much that I decided to follow it with a few more - it was a party after all, and it's not every day I get to serve myself whatever I like out of the cooler, for free. Sure, I could've tried a whole slew of brews but admittedly, once I had my first sip of the Winter Ale, I knew it would stay with me for the bulk of the night.
I most definitely recommend trying Brooklyn Winter Ale this season... I plan on trying it again and again :)
Tags: