Bar foot rails are an essential component as you put the finishing touches on your bar. They add both comfort and style. When deciding upon which bar rail brackets to use, there are a number of mounting types that may or may not work with your home or commercial bar setup. You can choose the brackets you want to use based on look, function, and the method of installation.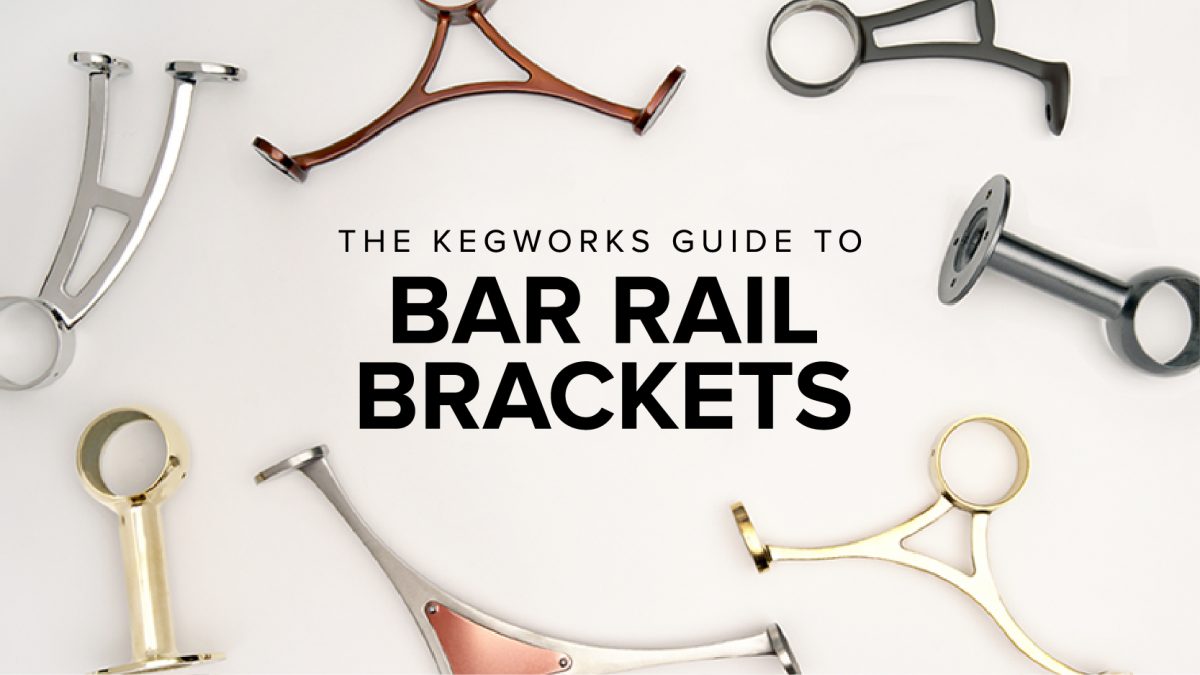 Before deciding upon brackets, it's important to know what your plan is. For best practice, use painter's tape to map out exactly where you plan to put the bar rail and make a sketch. For proper support, your brackets should be placed 6 inches from each end of the rail (at most) and every 4 feet through the middle. The bar foot rail height from the floor will depend on the bracket you choose. For certain brackets, you can decide the height of a bar foot rail from the floor. With other brackets, the proper bar foot rail height is fixed. The bar rail will sit at approximately 6" from the floor to the center of the bar rail. To get started on installing your bar foot rail, we have all kinds of resources to help you get it done:
---
Once you have your plan in place, now comes the fun part. Pick out the style of both your bar rail tubing and brackets to best suit your style and needs. Here are some of the brackets we offer: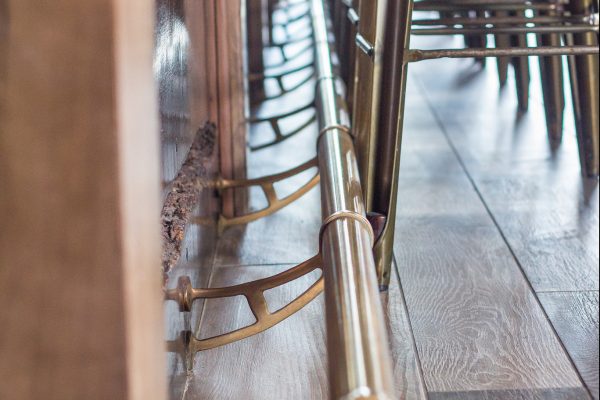 Bar mount brackets are brackets that mount directly to the face of your bar. These brackets are easiest to clean under and give your bar a unique look. One advantage to using bar mount brackets is that it allows you to choose a custom height for your bar foot rail. This comes in handy if you need brackets taller than the standard 6". Most of the other brackets will be mounted at a fixed height from the floor. A back access bolt is used for weight bearing, so you MUST have access to the back of the bar to install these brackets: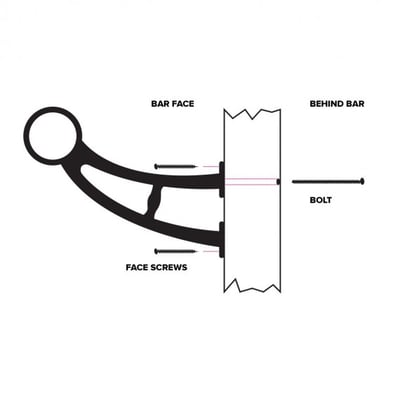 ---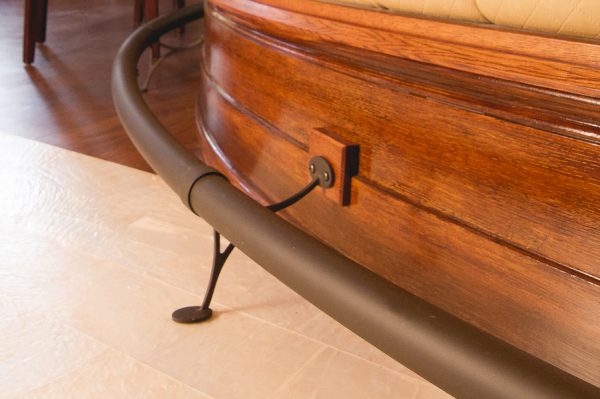 Combination bar rail brackets are our most popular style. They mount to the face of the bar and rest on the floor for support. Unlike our basic bar mount brackets, you do not need access to the back of the bar to install the combination brackets. The height of a combination bracket bar foot rail is approximately 6" (measured from the floor to the center of the area for the tubing). The combination bracket will sit approximately 6"-7" away from the facing of your bar.
---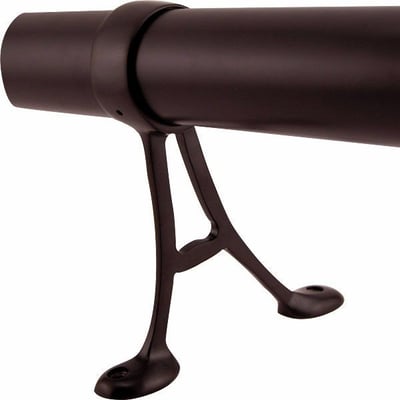 If you guessed that floor mount brackets mount to the floor, you are correct! As with combination brackets, this eliminates the need for access to the back of your bar for installation. Floor mount brackets give you the added flexibility of installing them closer or farther away from the facing of your bar as desired. A floor mount bracket will avoid any risk of damage that could be caused by mounting a rail directly onto a bar. When mounted properly, the bar rail will sit 5.5"-6" off the floor.
---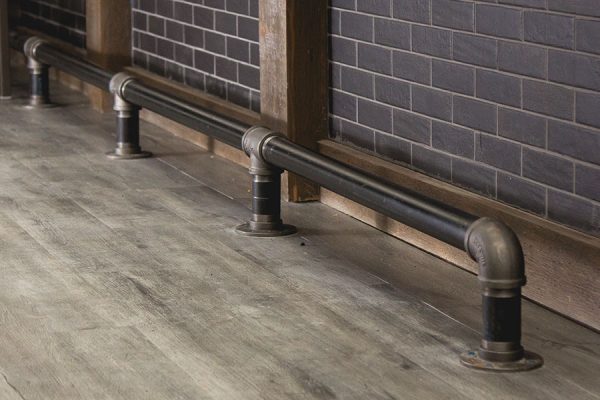 Industrial Black Pipe bar foot rail is becoming a very popular style. These floor mount brackets are pre-threaded for your installation ease and give your bar a rustic look. The strength of the industrial black pipe style allows the installer flexibility in desired height. The connector piece for this bracket is 4" tall if fully screwed in. However, these brackets are sturdy enough where they can sit higher, up to 7" off the ground, and still maintain their durability.
---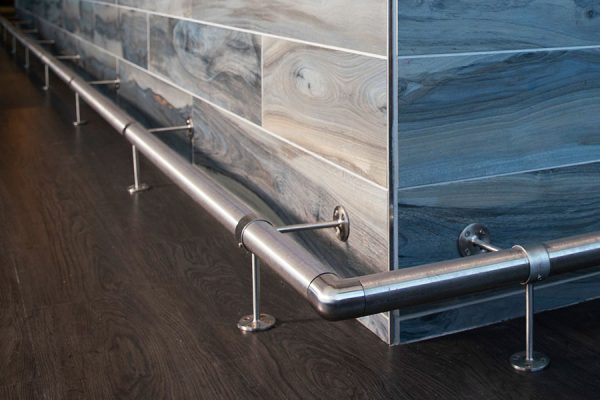 Our 90-degree brackets attach securely to both the face of your bar (or wall) and the floor for extra stability. The included 1 ½ inch screws make installation extremely simple. These brackets sit exactly 5.94" from the floor to the center of the tubing, and 5.94" from the facing of the bar to the center of the tubing.
---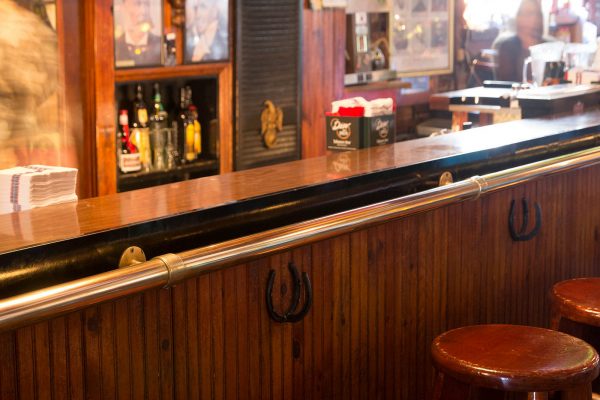 Center post brackets are great for use as either a bar foot rail or bar hand rail (as pictured above). Their low-profile design makes them extra versatile. These brackets are just 4.5" in total height. Center post brackets sit approximately 3.5" from the floor, bar facing, or wall that they are mounted upon to the center of the tubing. They can fit in tight spaces, be used as hand rail, or be used as foot rail for bars with lower chairs or stools.
---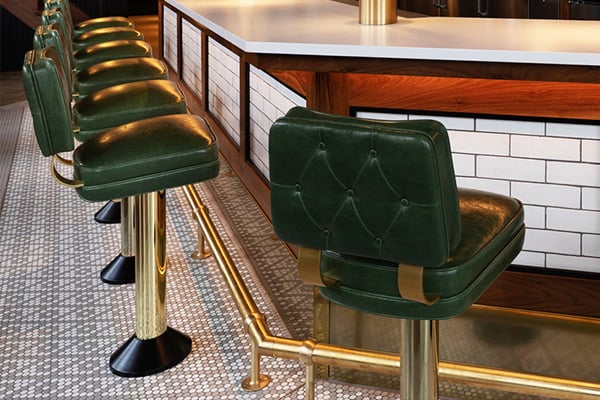 Rounded center post brackets add a slightly different touch than the center post brackets. Due to their thinner design, t's best to space these rounded center posts no more than 36 inches apart for stability. These bar foot rails sit approximately 5.5" from the floor to the center of the tubing. If the stools of your bar are higher up, there are tall rounded center posts. Tall rounded center posts sit approximately 6.5"-7" from the floor to the center of the tubing.
---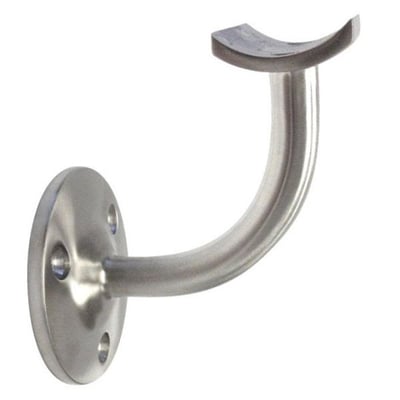 Whether you're just looking for railing for your stairs or if you need hand rail for your bar, we have what you need. Our wide selection of hand rail brackets will have you covered no matter what tubing finish you choose. These hand rail brackets sit approximately 2.5" from the wall to the center of the tubing.
---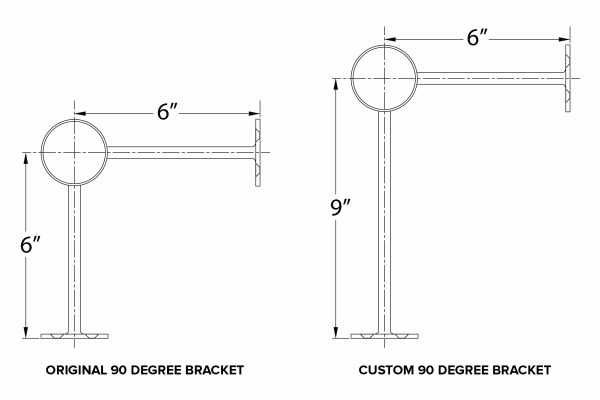 Custom brackets are an excellent solution if you need brackets that are taller than normal. KegWorks Bar Rail Experts can have custom bar rail brackets fabricated to match your project's specifications based on a technical drawing that you supply. The custom brackets are constructed to spec using stainless steel to ensure a durable and affordable solution, and then powder coated to match the finish of your bar rails.
---
Speaking of bar rail finishes, there are many to choose from. Among the most popular are powder-coat finishes:
Shiny metals such as silver and gold fit almost any bar:
These unique options will give a bar truly distinct character:
---
Without the sturdy support of bar foot rail brackets, you'd never be able to install a comfortable bar rail in your space. That's why we carry a wide variety of bar foot rail brackets in easy-to-install styles and finishes. No matter which finish or or bracket style you choose, you can be sure that a bar foot railing will offer comfort and style for years to come. Start building your bar foot rail by browsing our collection of bar rail by finish. Have questions? Feel free to give us a call at 866-249-2337 or contact us today!