Building a DIY champagne tower isn't as hard as it looks.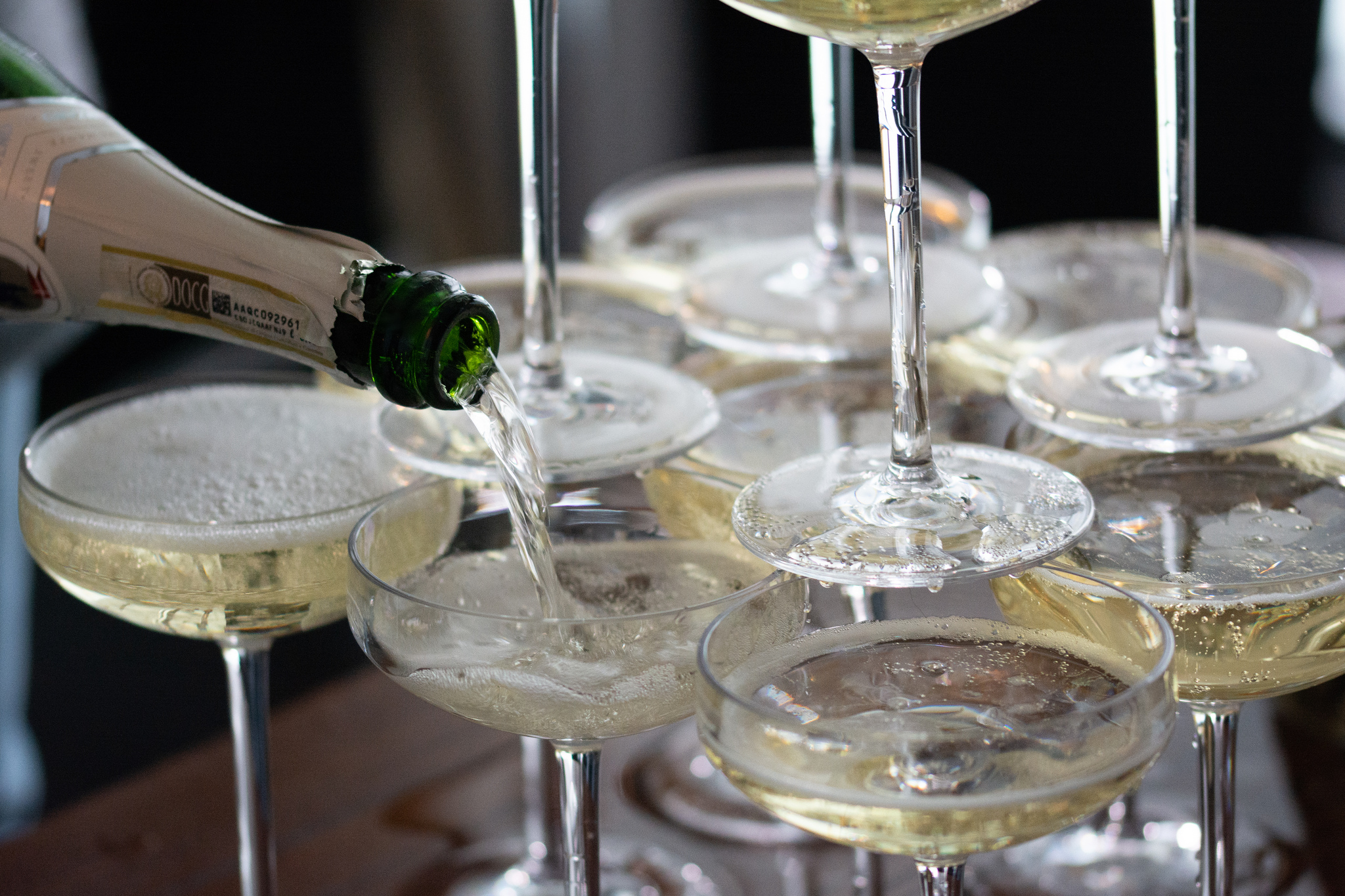 Nothing says 'celebration' quite like a champagne tower and building one for your next party should definitely be on your to do list. With these five easy steps to a DIY champagne tower, we promise minimal leakage and tons of cheer.

Step 1: Do the math on how many glasses you will need.
If you read no further than this sentence, the most important thing you can do to ensure champagne tower success is stacking your tower in such a way that the bottom of each champagne glass is touching the tops of four other champagne glasses. Why? This way all the edges of champagne have somewhere to pour into once you start pouring. For reference, we went with a 9, 4, 1 formation - which totaled to 14 champagne glasses.
Step 2: Choose your glassware.
Almost equally as important as your formation, the type of champagne glass you use is critical to your DIY champagne tower. For sturdiness, you will want to go with a wider bottom, something like a coupe. Shatterproof or plastic glasses are the best options as well (you never know).
Step 3: Calculate your bottles of bubbly.
A standard bottle of bubbly will give you about 5 glasses of sparking wine, so stock up accordingly. For reference, our 14 glass tower took almost 5 bottles.
Step 4: Plan your scene.
If you want zero (or minimal) spillage, you will need to plan out the space you'll be building your champagne tower. You'll want it to be on level table, feel free to build on a serving tray or line your table with a tablecloth.
Step 5: Build & Pour.
Start stacking your champagne glasses in your 4 bottom/1 top formation. Make sure all the sides are touching wherever possible. Once your stacked glasses are in place, pop a bottle and start pouring at the highest glass. Pour from that height until all champagne glasses are filled. Top off on each glass at the end if needed.