It's a warm spring night, let's say Friday. You're leaving the office or the factory, or wherever you grudgingly spend your weekdays. You've been sitting (or standing) in one place all day, and you need some exercise; a bike ride, perhaps. The party you're going to is right down the road, but how are you supposed to take a six pack on your bike? With the 6 Pack Frame Cinch, duh.
Seriously, though, how rad is this thing? It's made from quality leather, and clasps onto the frame of your lowrider banana bike, or huffy, or whatever you choose to ride with two wheels, and it clasps the cardboard handle of your six pack. Only suggestion - be sure you grab a sixer with some durable packaging, or this could fly off the handle quickly.
---
2. Growler on Board Beer Growler Carrier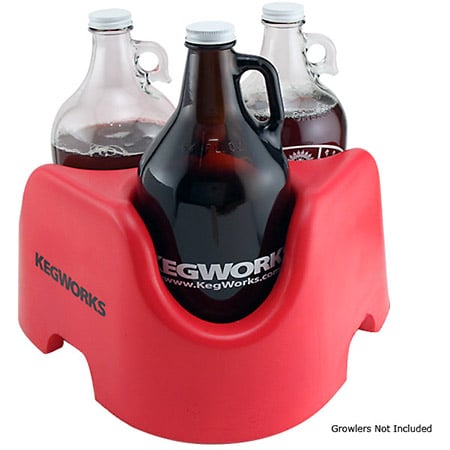 We've all experienced that moment: you're walking out of the beer store, growler (or two, or three) in hand, smile sprawling across your face, and then you reach the car and think, Damn, how am I going to do this? You can't just throw them in the back seat, or on the ground, or really even in the front seat. There's no safe place for them.
What do you do with your toddler when you take him/her for a ride? You use a car seat, right? Same idea, here - precious cargo all the same. The Growler on Board Beer Carrier is like a car seat for your draft beer. It's pretty much the best thing since stainless steel growlers.
---
3. JetBag Padded Absorbent Bottle Travel Bag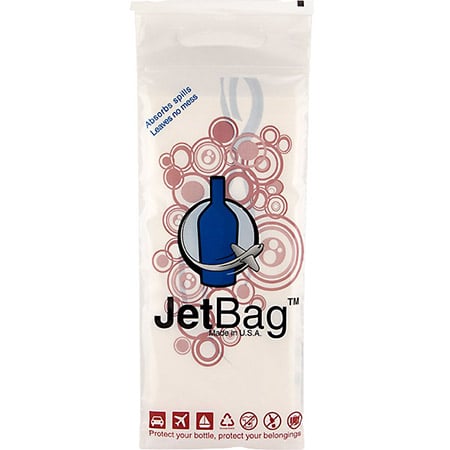 Any beer loving traveller knows how hard it can be to bring home liquid souvenirs successfully. You've tried throwing your bottles in dirty tube socks, wrapping them in sweaters, or securing each with a tied plastic bag, but nothing really works.
That's where the JetBag comes in. It's made with the same absorbent materials you'd find in baby diapers, so the bag absorbs almost any liquid without leakage. If the bottles happen to break, you will lose the beer, but the rest of your belongings will be safe.
With that said, the JetBag is super padded and secure, so it's likely that your beers will survive the blows that often come with checked baggage and careless tarmac bag tossing. In that case, you can use your JetBag over and over again.
---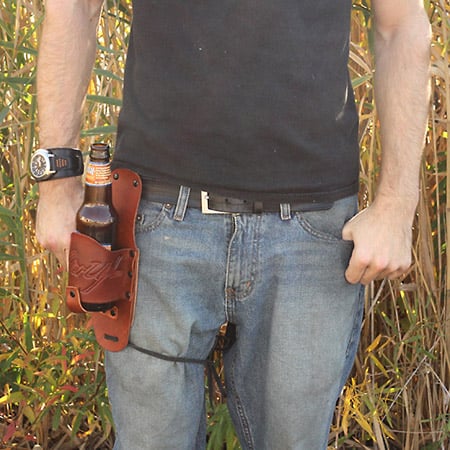 Now this bad boy's a little different. The first two travel buddies were made with practicality in mind. This beer carrying hip holster, on the other hand, was made with something else in mind - straight badassery.
Obviously one can carry a beer with their hand if they choose, so why have the hip holster? Well, plainly put, it's awesome. In addition to its durable leather construction, the hip holster features a built-in pocket on the backside for cash, cards, and identification, ruling out the need for a bulky wallet.
If you're trying to make an impression at the next party, concert, or big game you're attending, the hip holster is sure-fire way to do it.
Tags: