There's something intrinsic to brandy that brings to mind images of well-to-do persons living in mammoth, aristocratic mansions. They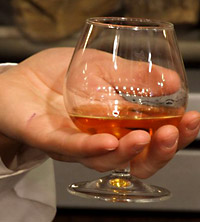 lounge in the finest Florentine leather armchairs casually sipping the warm, caramel colored spirit from short, tulip-shaped glasses as thin tendrils of ethereal blue smoke dance seductively from a cigar and rise, twisting and turning on the breeze into the soaring ceiling of the colossal book-lined library below.
This image is one that has been painted for each of us time and time again. Our minds have been trained to produce such an image because, well – for no good reason at all. We're just reproducing what we're shown in the television shows and movies we watch, and in the books we read. Perhaps this is all because "brandy" or "cognac" sound fancy and exclusive, or perhaps because most people know little or nothing about it.
The simple fact is that brandy is a distilled wine which can be made from grapes, pomace, or fermented fruit (i.e., cherries, apples, raspberries, peaches, etc.). Like many other spirits, brandy comes in a wide variety of flavors, aromas – and even names. The names used for brandy are as numerous as the countries and regions that produce it. For example, Cognac is the name for brandy produced in the Cognac region of France and as with the use of the word "champagne," only true cognacs come from the Cognac region.


Brandy has a long history – predating the ancient Romans and Greeks. Merchants of the time would distill the wine in order to preserve it for the long, exhaustive trips along trade routes. Due to the distillation process, brandies have high alcohol content, approaching 70%.
Brandy isn't just for snobs. It's for people can appreciate a fine, smooth, somewhat breath-taking after meal drink, especially on cool or cold nights – like the ones we've been having recently here in Buffalo.
If you're feeling adventurous, treat yourself to a snifter or two after your next big dinner with friends or family. It really sets the mood.