Today's MVKW (most valuable KegWorker) is Ed, who not only brought in an AMAZING Southern Comfort cake – he went against all he was taught and shared the recipe with us (and therefore all of you.)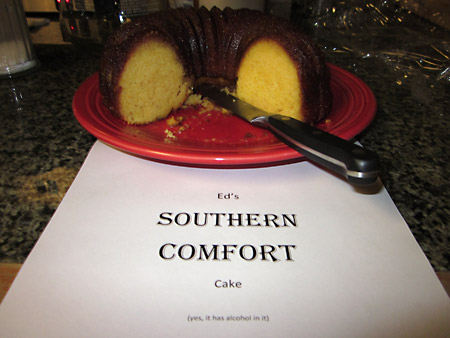 Here's what he had to say:
If my mother were reading this, she'd kill me because this is really her recipe that she passed on to me a long time ago. Lucky for us, she's not on Facebook.
Whether cooking or baking, I experiment with quite a few different ingredients and flavors and, like any good baker, I must leave out a key ingredient that makes my version of the recipe mine.
Yeah, I know that my saying that is tantamount to a "Screw you, buddy" but if I gave it all away, who would want to come back for the real deal? ;) Anyway, I encourage you to experiment yourself after you've followed this recipe at least once.
The simplest way to make my version of the Southern Comfort cake is as follows:
Start with a regular yellow cake mix, including the ingredients listed on the box.
Preheat oven to 350°
Prepare all the wet ingredients
Add 3 - 4 shots of Southern Comfort with all the wet ingredients and mix thoroughly (as this bakes, the alcohol will cook-off, leaving a nice smooth SoCo flavor) - I also add about 8 - 12 drops of vanilla
Mix for about a minute
Slowly add dry ingredients to the wet while mixing thoroughly for 3 - 4 minutes (the less clumpy the mix, the better)
Pour the final mix into a pre-sprayed/oiled bundt pan or mold
Tap the mold onto the counter a few times to remove any air bubbles from the mix
Baking time varies depending on the size and type of pan you use and as such can vary from 35 - 45 minutes (cupcakes in about 25 - 30)
After 30 - 35 minutes, test the cake by poking it with a toothpick - if the toothpick comes out clean, it's ready and if it doesn't, keep baking until it does
Remove the cake from the oven and let cool for 10-15 minutes
Remove the cake from the mold, allowing it to cool on a rack
As it's cooling, you'll need to prepare a glaze. This is part is a little less healthy, but I encourage you to live a little – it's not like you're going to make this thing every day.
In a small saucepan, melt 1 stick of butter on low heat
When melted, add 1½ - 2 cups of sugar, 6 - 8 drops of vanilla, 2 - 3 shots of Southern Comfort
Mix thoroughly (again, the alcohol will cook-off, but leave you with a nice, smooth SoCo flavor)
NOTE: If your mixing spoon feels gritty, the sugar is not yet melted. Continue mixing and melting.
OTHER NOTE: Do not allow this glaze to boil or it will singe the flavor and, trust me, you don't want that.
With the cake significantly cooled, it's time for you to go all Norman Bates - stab it repeatedly with a toothpick
Pour Southern Comfort over the cake to allow it to soak (how much you use is up to you, but I offer that 3 - 6 shots adds a great flavor in the end... feel free to add more, but remember, this is food and not a cocktail)
Dribble or brush the glaze over the soaking cake - apply the glaze in layers by allowing the cake to continue cooling between layers (the glaze also locks-in the SoCo in the cake)
Let cool for a couple hours and it's ready to serve.
Enjoy!
Thanks Ed, we'll have to try this for ourselves. If that doesn't work out, we'll probably need you to go ahead and make some more. Hint, hint.
Tags: