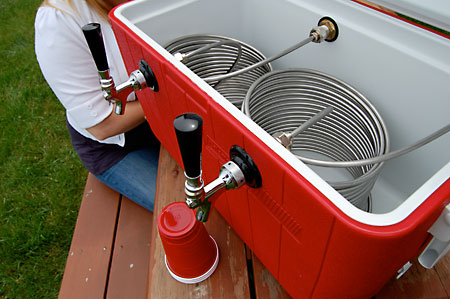 I recently had an email conversation with one of our customers that I thought was quite helpful, in regards to using jockey boxes for dispensing kegged beer. The conversation with Robert L. began like this:
Just wanted to share:

I found that using a jockey box allows me to keep my kegs at room temperature & still serve ice cold beer. This, in turn, allows me to use & keep partial kegs at room temperature, thus allowing a "library" of beers that I can pull out any time I like (as opposed to chilling down a whole keg & having to keep it refrigerated.
My question followed:
"Did he ever find his beer to be foamy, without having the keg iced down, or did the jockey box coil cool it enough to keep consistently good pours?" I've spoken to Pete about the jockey box quite a bit, and had always been under the impression that the keg had to be kept iced down and wicked cold.
Robert got back to me rather quickly, and I couldn't wait to share with the rest of you, in case his jockey box experience might come in handy for the rest of you out there:
The first few glasses seem to require a little extra settling time, but once things equilibrate & the pressure gets set right, it seems to work pretty well.

We started with the aluminum plate (stainless steel tubing inside a cast aluminum plate), in a large ice chest with two taps. This works exceedingly well & the beer comes out ice cold. This is the one we use at parties, and the beer seems to remain consistently cold despite almost continuous pouring. Although it works better, its size (& weight) make it less convenient for small gatherings, or small tastings.

For smaller gatherings I got your steel coil inside a smaller 8 qt cylindrical cooler, and set it up with a tap on the front & a wingnut -> tubing -> cornelius keg fitting on the other. 7 lbs of ice fit nicely, and it worked very well for a BBQ with 4 people. Also, in small gatherings, the beer usually gets a chance to sit inside the coils, cooling between pours, and I imagine this helps. I have only used it once so far (new acquisition), so time will tell as I use other batches.

As a side note, I have a pressure gauge (& a relief valve) attached to a Cornelius Ball lock connecter, which makes it easy to test & adjust the pressure of my kegs. I have found that after carbonation, keeping them equilibrated to 15 PSI seems to keep the right amount of carbonation in them, and minimizes foam formation when dispensing. Also, turning down the pressure to 10-15 PSI when dispensing lowers foam formation, but naturally, slows down the pour rate.
I cannot thank Robert enough for sharing his own experience with jockey box equipment, and how he changes his methods depending on party size. If anyone else out there has more to add, please let me know.
Cheers!
Tags: