We sell a ton of Authentic British Style Imperial Pint Glasses and it's no wonder why. They're as official as pint glasses get.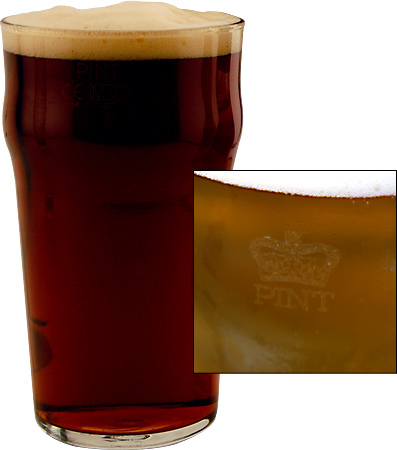 The prominent Crown Stamp on the glasses we sell today dates back to 1826 when King George EB established the Imperial system of weights and measures. From then on, all beer and cider in Britain was served in ½-pint and 1-pint quantities. All glasses underwent an inspection of Weights and Measures to ensure that they were fit for use for trade. The glasses that passed were "stamped." The little seal of approval is usually sandblasted on after a sample of glasses from each batch made has been tested. This system is still in place today.
Those that make the cut are usually of the brim variety, meaning to give the correct measure, the glass must be filled to the top.
If your pint glass doesn't have an etched seal and you're concerned about being short poured, you can always use the Piaget Beer Gauge to measure the volume in your glass. Either method will ensure you've got a full pint.
Hope you've enjoyed this brief beer related history lesson. Drink on.
Tags: