I hate it when I buy a 10 or 20-pound bag of ice cubes at the store to use for cocktails and before you know it, it turns into one solid block.
This has happened to every party host: You buy a bag of ice at the store, ice melts a little while you get whatever else you need. You go home, put the ice in your freezer and set up for your party. Once your guests arrive, you go to take the bag of ice cubes out of the freezer and all of your nice, uniform cubes have now frozen together into one giant cube.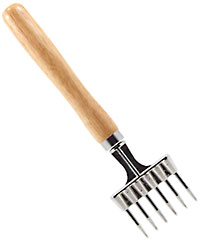 Great if you are making one giant 10-gallon cocktail; not so good if you are serving a group of thirsty guests. So, now you are slamming the bag on the ground to break up the mega cube and the bag breaks open spilling the newly freed up ice on the floor. Or, you put the bag in the sink and attack it with a butter knife. Even your ice pick only frees up a few cubes at a time. I have gone so far as to use my hammer to free up the cubes. Not anymore.
I saw the Ice Chipper when it came in as a sample and had to have it. In fact, I bought the sample Chipper before we even put it up for sale on our website. This gadget's six tempered steel tines makes short work of freeing up your cubes for tasty cocktails and saving you time and frustration.