Heavy metal is the music genre of choice for many KegWorkers. We share iTunes libraries and it's not unusual to share CD's – so I've had my fair taste of songs like "Triple Corpse Hammerblow," off of the Children of Bodom disc Hate Crew Deathroll, "Scar Spangled Banner" (that's by eXodus and the album is called Tempo of the Damned) and of course Slayer's "Here Comes the Pain" from the album God Hates Us All.
In case you couldn't tell by my slight sarcasm, I'm not exactly a huge metal head myself. I will admit however that it's growing on me – slowly. Every now and then if I'm really pissed off, I'll put on some Black Label Society and all of a sudden I feel like sunshine and rainbows again - sort of.
Regardless, my opinion of heavy metal is entirely irrelevant because the real news here is that Jester King Brewery a brand new Texas-based craft brewery launched by a former attorney and perceptible metal lover, Jeffrey Stuffing. They've released their first seasonal beer, cleverly named Black Metal Imperial Stout (also known as Suds of Northern Darkness, Iron Sword and El Martillo del Muerte.) I don't remember too much of my high school Spanish at this point but I'm pretty sure Muerte means "death" or something of that nature. Sounds about right.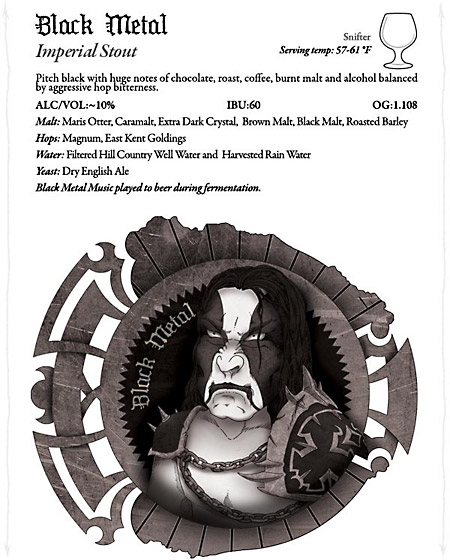 According to their website, "Black Metal is a cruel and punishing beer fermented by the sheer force of its awesome will. We are pretty sure that Kreator wrote the song 'Impossible Brutality' about this beer while drinking it during their Extreme Aggression Tour."
All I have to say about this beer is that they have a sweet tap handle and it sounds pretty tasty. Horns up. m/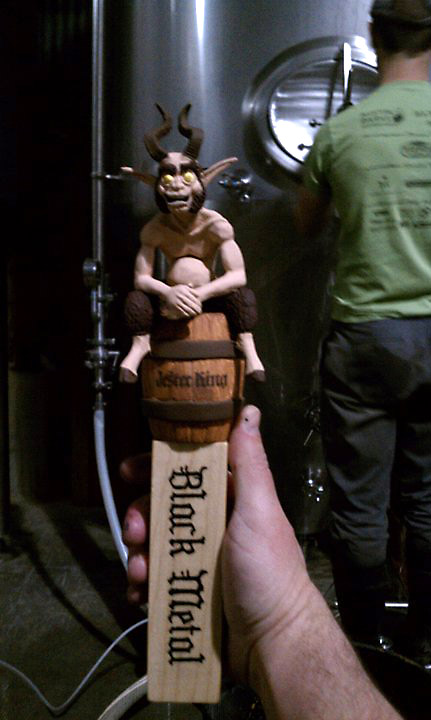 Tags: