It's like fermented chocolate syrup. I mean that in a good way.
I had a hankering for something wicked sweet, but wasn't in the mood to chew. I wanted a beer. I wanted a chocolate beer. I'm not gonna lie, beer doesn't get more chocolaty than this. It really hit the spot.
I poured my first glass and shot Deron (of KegWorks Top 5 Beers fame) a picture message.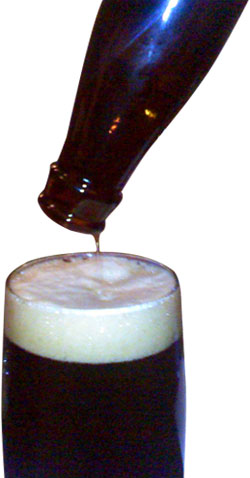 He replied, "Can you drink a whole bottle of that?"
I wasn't sure, but was willing to try.
Not only is this beer quite sweet, but the alcohol content is rather high (9.5%) so not only would I be testing how much saccharine I could stomach, but also how much of the 22-ounce bottle I could handle before getting positively silly. Of course, I've had my fair share of beers, so I didn't think the latter would be a problem.
Southern Tier Choklat poured deep black—onyx, even—which I expected being that it's featured as one of their "Blackwater Series Imperial Stouts." Its thick, light tan, creamy head lasted almost as long as there was beer in my glass, leaving a fair amount of lacing with every swirl. Maybe I was drinking it more quickly than I should've but either way, what a treat.
Strong aromas of dark, rich chocolate filled my nose in ways that made me taste it, even before I had my first sip. Although the brew was nearly opaque, it didn't look to be super syrupy; my first sip proved me right. It offered a full-bodied mouthfeel with enough carbonation to keep it drinkable, instead of having the consistency of sundae topping, which I would have thought if I had gone by smell alone.
Southern Tier Choklat Stout tastes of rich milk and dark chocolates, with a hint of oat, but really chocolate is everything to this brew. Not only do they concoct it with chocolate and caramel malts, but they actually put pure, bittersweet Belgian chocolate in the beer as well. If you haven't tried it yet, and you love chocolate, I really recommend it. I wouldn't consider it as a session beer, or one that I'd drink all the time, but for extreme chocolate cravings it certainly hits the spot.
Cheers!
Tags: