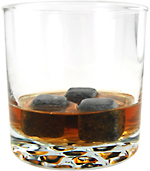 The term "on the rocks" has a whole new meaning! Usually, of course, when one orders liquor on the rocks, it's poured over ice. A great way to chill your favorite spirit but unfortunately, equally as great at watering it down.
Enter On the Rocks Whiskey Stones. Handcrafted by soapstone workers in Vermont, the set of 9 stones can be kept in your freezer and added to a shot or two of your favorite spirits for a great "on the rocks" experience, without the dilution factor of actual ice. Now, I may not be one to chill my bourbon, but I'd sure try it with some premium vodka.
Get your own Set of 9 On the Rocks Stones for just $19.95.
Cheers!