In order to supply the demand of beer before their flagship brewery outside of Aberdeen is built (2012), BrewDog has been making about 8% of their brews (mostly 77 Lager and Zeitgeist) at Meantime Brewing in London since early 2011. Oddly, Meantime produces less beer than BrewDog themselves but as we all know, BrewDog is about quality, not scale. The partnership has been a helpful one.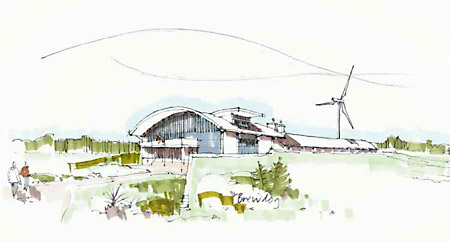 Image Credit: BrewDog Hop Propaganda Issue 9
Although it's amazing to have partnered with a great brewing company like Meantime until their flagship brewery is built, I must admit I'm rather stoked about the promises that come with their near-Aberdeen location. According to Hop Propaganda, the monthly BrewDog newsletter I receive:
It looks like we have been given permission to use our preferred option which is a full water treatment plant meaning we can reuse as much of the water as possible and return the balance of water, completely treated and clean into a local stream. The idea with the new facility is to make it as environmentally friendly as possible and completely carbon neutral. This will be achieved through heat recovery, re-use of water, a bio-mass generator and permission dependent also a windmill.
Not only will BrewDog be able to brew up more delicious beer but they'll also be giving back to the northeast Scotland environment! They hope to begin building late 2011 and operational in summer of 2012. That's cause enough for celebration to me.
Tags: