It's understandable that in the upcoming week you will likely be inundated with a boatload of 'holiday cocktail'; recipes, most of which you'll never get around to making even though you intended to. So I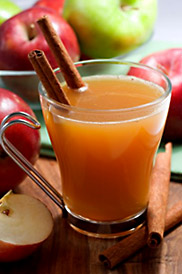 thought I would throw this one in the ring, taken from Don Russell's a.k.a "Joe Sixpack's" bible on Holiday & Christmas beer, called "Christmas Beer - The Cheeriest, Tastiest, and Most Unusual Holiday Brews". This recipe is a bit labor intensive, but if you have the time and are hosting a large party, it will be a great 'gift' to provide for your loved ones. I'm sure it'll get a few people talking, and help spread that Christmas cheer this weekend.
Joe Sixpack's Wassail
12 small baking apples
12 12-ounce bottles of Christmas beer (I suggest
Great Lakes Christmas Ale
, Anderson Valley Winter Solstice, or Harpoon Winter Warmer)
1 cup brown sugar, firmly packed
4 cinnamon sticks
2 tsp whole cloves
1 tsp ground ginger
8 whole allspice berries
Pinch of nutmeg
2 4-inch strips of orange peel, white pith removed
4 cups cream sherry
Bake apples in a shallow pan for 20 minutes at 375°F. Pour 3 bottles of the beer into a large stock pot and add the sugar, spices and orange peel. Simmer over low heat for 10 minutes. Gradually add about 6 more bottles of beer plus the sherry. Bring to a boil, then lower the heat and simmer for 5 more minutes. Add the last 3 bottles of beer and heat for 30 seconds. Pour into a punch bowl with as many apples as will fit, or serve from the pan with the apples floating on top.